Gabriel Batistuta: 'I cannot forget my past' – the conflict of scoring against Fiorentina
Subscribe to the Totally Football Show here…
How would you feel if you left the club you loved in search of glory? And then a few months later you had to play them?
In the summer of 1991, Fiorentina's colourful owner Cecchi Gori was relaxing, safe in the knowledge that he had purchased one of the finest young talents in Argentina for the following season. The player in question had starred over the previous few seasons for Boca Juniors and, as Diego Maradona's latest brush with the drug testers had ruled him out of that year's Copa America, was the player his country looked to for inspiration.
Gori followed the tournament with keen interest, to see how his latest acquisition was getting on, but his attention was captured by another. For while Diego Latorre, the No.10 already on his way to Florence, had a slightly underwhelming Copa, an all-action centre-forward with eye-catching locks was banging goals in for fun. You can bet that if this happened in the present day, Gori would all over the internet as that 'distracted boyfriend' meme: by his side would be Latorre, but the passerby he was ogling would be Gabriel Batistuta.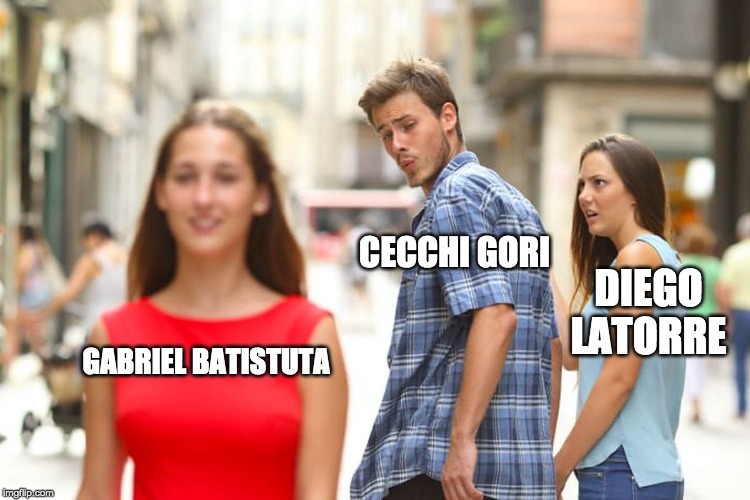 Batistuta, also a Boca player, finished as the tournament's top scorer, so interest in him was far and wide. Gori had some work to do, so got creative: not only would he pay the significant (in those days) asking price of around £2.6million, but he would also get Boca a replacement, so he bought the Hurucan striker Antonio Mohamed and loaned him to the Buenos Aires club.
In the end Latorre only played twice for Fiorentina and went on to have a peripatetic career in Spain, Mexico and Guatamala. Mohamed's playing days were a little more successful and he went on to do well as a manager. But Batistuta would become an icon at Fiorentina.
Not that you'd think so from his first few months in Italy. Almost written off as a joke during his first few training sessions, some of his teammates refused to take him seriously. Of course, that didn't last long: he only scored once in his first 11 games but after bagging one against Cremonese at the start of December, he essentially didn't stop scoring for the next eight seasons.
His goals weren't the only reason he became such a god in Florence. Despite his burgeoning international reputation, Batistuta stayed with Fiorentina after they got relegated in 1993: remarkably, they were second in the table in December of that season, behind only the Milan of Baresi, Rijkaard and van Basten, but after Gori fell out with manager Gigi Redice and fired him, they nosedived spectacularly and dropped into Serie B.
That said, the decision to stick around wasn't 100% altruistic, considering that was a season before the World Cup: Batistuta had to make the case for Argentina's USA '94 squad from the second tier.  "I feel depressed," Batistuta just before the 93/94 season. "I want a first-division team to play for. I will be able to go to the World Cup only if I am playing at the highest level."
I consider myself a winner because I helped Fiorentina to compete with the big boys.
Gabriel Batistuta
Still, that small amount of huffing paled into insignificance compared to his notoriously reticent teammate Stefan Effenberg. "If I don't make the World Cup, it would destroy me," the German said, threatening to go on strike. "I did my best to save us from relegation and Fiorentina must let me go. They owe me that.'' To which Gori characteristically responded: "Either he plays for us or he sits out the entire season. Then we'll see how much chance he has of playing in the World Cup.''
For the record, both stayed and both made it to America. However Brian Laudrup was allowed out on loan to Milan, only for Denmark to not even qualify. Funny how things work out.
Batistuta was injured for chunk of that season in Serie B, but still scored 21 goals as they sauntered to promotion. Over the next six seasons he scored 153 goals, only failing to break 20 once which is particularly astonishing given a) this was an era of calcio when defenders would hoof strikers up in the air as soon as look at them and b) he didn't take penalties.
Still, despite the extraordinary personal tallies, Serie A remained out of reach. They came closest in 1998-1999 under Giovanni Trappatoni, top of the table from September to February until Batistuta injured himself, of all things, defending a corner against Milan. He actually only missed four games but, like a hurdler hammering the barrier, Fiorentina stumbled and finished a fairly distant third.
In all this time the spectre of his departure hung around like a persistent thunder cloud. Previously he had rejected the idea of a move, explaining in an interview after his retirement that he "preferred the tranquillity of playing for Fiorentina": and after all, this was the club where the fans had erected a statue to him. But by 2000, having only just played in the Champions League for the first time, it was time.
The destination was unusual, though. As James Horncastle noted in the episode of Golazzo dedicated to Batistuta: "Roma was not the most conventional club if you think 'I need to win the title.' You'd go to Juventus, or Milan…"
On the face of things, the move didn't look especially likely: here was a player reluctant to leave his 'home'; a selling club reluctant to sell; a buying club reluctant to pay over the odds for a 31-year-old. But Roma manager Fabio Capello and his right-hand man Franco Baldini superbly manipulated the media and the ego of club president Franco Sensi.
As Gab Marcotti wrote in his biography of Capello 'Portrait of a Winner', they planted a story in Corriere dello Sport suggesting the move was in the offing, after which praise rained down on Sensi, to the point that he was essentially forced into paying whatever it took in order to make the deal happen and not make himself look foolish. 'Whatever it took' turned out to be £23.5million, at the time a record price for a player over 30, only broken in 2017 when Milan spent £37million on Leonardo Bonucci.
Batistuta scored nine in his first seven games with Roma, but that was merely preamble to the eighth, when Fiorentina came to the Stadio Olimpico. Before the game, Batistuta went over to the travelling Fiorentina fans to salute them, as if to preemptively apologise for what he was about to do.
He had a couple of chances in the first half, but was broadly smothered by his old team, as were most of his new colleagues. The game looked like it was petering out to a stalemate, but after 83 minutes the ball dropped to Batistuta outside the box from a Gianni Guigou header.
"I played the whole match with these conflicting thoughts in my head," said Batistuta afterwards. You wonder whether, as the chance dropped, he had time to really consider what he was about to do, or whether the instinct of the striker took over.
The ball bounced, and just as it reached the apex of its arc, Batistuta pulled back that howitzer of a right foot. His most memorable goals – like the two he scored in the Champions League against Manchester United and Arsenal – were characterised by their violence, any goalkeeper unable to cope with the physics of the thing. But while this one was more powerful than 98% of footballers could manage, this wasn't quite as firm. The ball even looped a little as Francesco Toldo in the Fiorentina goal threw up a vain arm and twisted around in the air, surely knowing that he stood no chance.
I am sorry for Fiorentina. I was trying hard but I cannot forget my past.
Gabriel Batistuta
Batistuta didn't really know what to do. His teammates, understanding what he had just done, surrounded him closely. He closed his eyes tightly, trying not to burst into tears on the pitch. He didn't manage it. This wasn't quite Denis Law thinking he had relegated Manchester United with a backheel, but it was close. At full-time he removed his Roma shirt and dried his eyes with it. In his interviews after the game, he defined 'putting a brave face on things.'
"I felt real joy because we gained three important points but soon after I couldn't help but feel really sad either, thinking back at all those years spent with Fiorentina," he said at full-time. "My family grew up in Florence. There I became what I am now, and those are things that cannot be forgotten.
"I hope that the Viola fans understand that. I think I paid my respects to them. Certainly I cannot say that I am happy to have scored against my former team-mates, but Roma wanted the win. I am sorry for Fiorentina. I was trying hard but I cannot forget my past."
Batistuta's goals were one of the biggest factors in Roma's first Scudetto win since 1983, but after that season he lost his edge, and his career petered out. He's remembered as one of the greats, but should he have achieved more? "If he'd followed the same career trajectory as Ronaldo, would his career have been even greater?" James Horncastle asked on Golazzo.
Perhaps that's true. But what is more valuable: a few more medals, or a status as a god with two fanbases? "Although I never won a major trophy [in Florence]," he said recently, "I consider myself a winner because I helped Fiorentina to compete with the big boys."
This piece first appeared on the Totally Football Show in August 2019.
You can listen to the this edition of the Golazzo here, and even better, you can subscribe here or the Totally Football Show here. If you wish to reproduce any of the material in this article or from the podcast you are very welcome to, but please credit The Totally Football Show and include this link.
If you'd like to keep up to date with everything we do at the Totally Football Show, sign up to our newsletter or follow us on Twitter @TheTotallyShow.